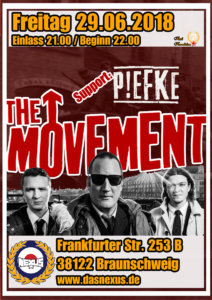 Einlass: 21:00 Uhr
Beginn: 22:00 Uhr
Eintritt: 7 €
The Movement: Facebook | Homepage
Piefke: Bandcamp | Facebook

Eine der stärksten Livebands die es gibt, feinster Powerpop und Modrock. Ja wir sind verliebt, wir sind richtig vernarrt in diese unfassbar energiegeladene Show. Die großartige Stimme von Lukas, der geniale Bassist Sebastian und der sensationelle Drummer Philip, könnt ihr euch noch erinnern? 2016 spielte er mit einer gebrochenen Hand, quasi einhändig das fast 2stündige Set – grandios. Hier passt einfach alles vom Klassenkampf bis zur Liveperformance. Das konnten sie auch im Frühjahr 2018 als Vorband von Feine Sahne Fischfilet in Leipzig und Hamburg zeigen. Wir sind addicted to you The Movement.
We got hope, we got love, we got marx … and The Movement.