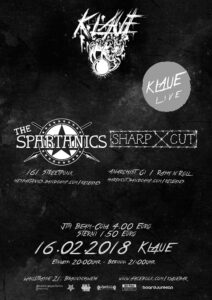 Einlass: 20:00 Uhr
Beginn: 21:00 Uhr
Eintritt: gegen Spende
Sharp Cut: Bandcamp
The Spartanics:  Homepage
Sharp X Cut und The Spartanics machen auf ihrer kleinen Europatournee halt in Braunschweig.Die beiden Leipziger Bands spielen geradlinigen Oi! und Streetpunkt mit straighter Attitüde. Sie kämpfen für eine emanzipatorische und antifaschistische Subkultur und thematisieren dass auch in ihren Texten.Ein hartes Oi! Brett was die Klaue erwartet. Wird geil. Bestimmt!